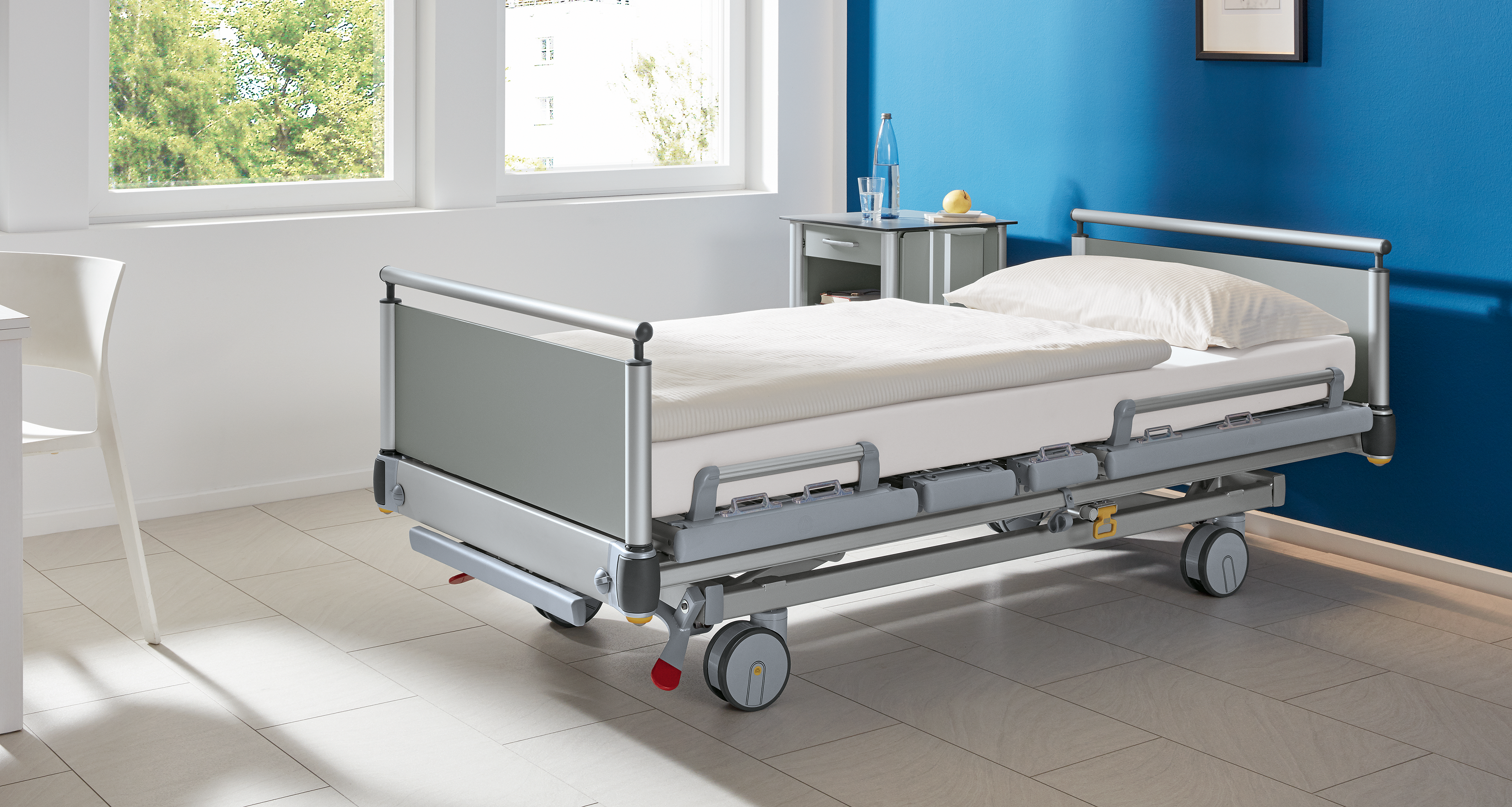 New bed variant for use in safety-critical psychiatric facilities
07-15-2021
Völker Protect – New bed variant for use in safety-critical psychiatric facilities
Witten, 15.07.2021 — Völker is now offering its S 962-2 and S 966 hospital beds in the special Protect variant for use in areas like psychiatric wards, where safety is especially critical. Both models have new and sophisticated features that significantly increase safety for both patients and care staff alike. The Protect series is available now via Völker sales partners.
"We always develop our products to provide the best possible comfort and safety for patients, while also making the job of care staff safer and easier. The new and sophisticated variants in our Völker Protect series will help significantly reduce the risk of injuries to both patients and staff alike", explains Managing Director Yvonne Risch.
Designed for safety-critical applications
Many hospitals and health institutions have sensitive areas like psychiatric wards that require special safety and security measures to ensure the well-being of patients and staff. With this in mind, Völker modified its S 962-2 hospital bed and S 966 low-height bed to form the Protect variant with additional safety features. The head and footboards, along with the HPL lying surface, are fixed in place by screws. The hand controls can also be removed and the nurse keypads can be locked to prevent patients accessing them. The power cable comes with a secure Anaconda sheath to reduce the risk of patients injuring themselves.
Low-height variant reduces risk of injuries
The S 966 Protect variant can also be lowered to a height of 28.5 cm. This can significantly reduce the threat of severe injuries for patients with a risk of falling.
Patient safety even during restraint
Restraining a patient is always the last resort when it comes to protecting both them and care staff. Should this be necessary, however, it must be possible to restrain the patient quickly, easily and without having to change or reconfigure the bed. That is why Völker's Protect beds feature twelve fixation belt holders made from die-cast zinc and screwed to the bed. This makes it possible to restrain the patient quickly, safely and evenly. As a result, the Protect bed variants offer Völker's level of comfort even in safety-critical applications.
With Völker's new variants, the specialist for beds and facility solutions for hospitals and healthcare facilities is remaining true to the vision of dignified care that has guided it for over 100 years. Based in Witten in western Germany, the company develops products that both ensure patient comfort and make the jobs of care staff easier.