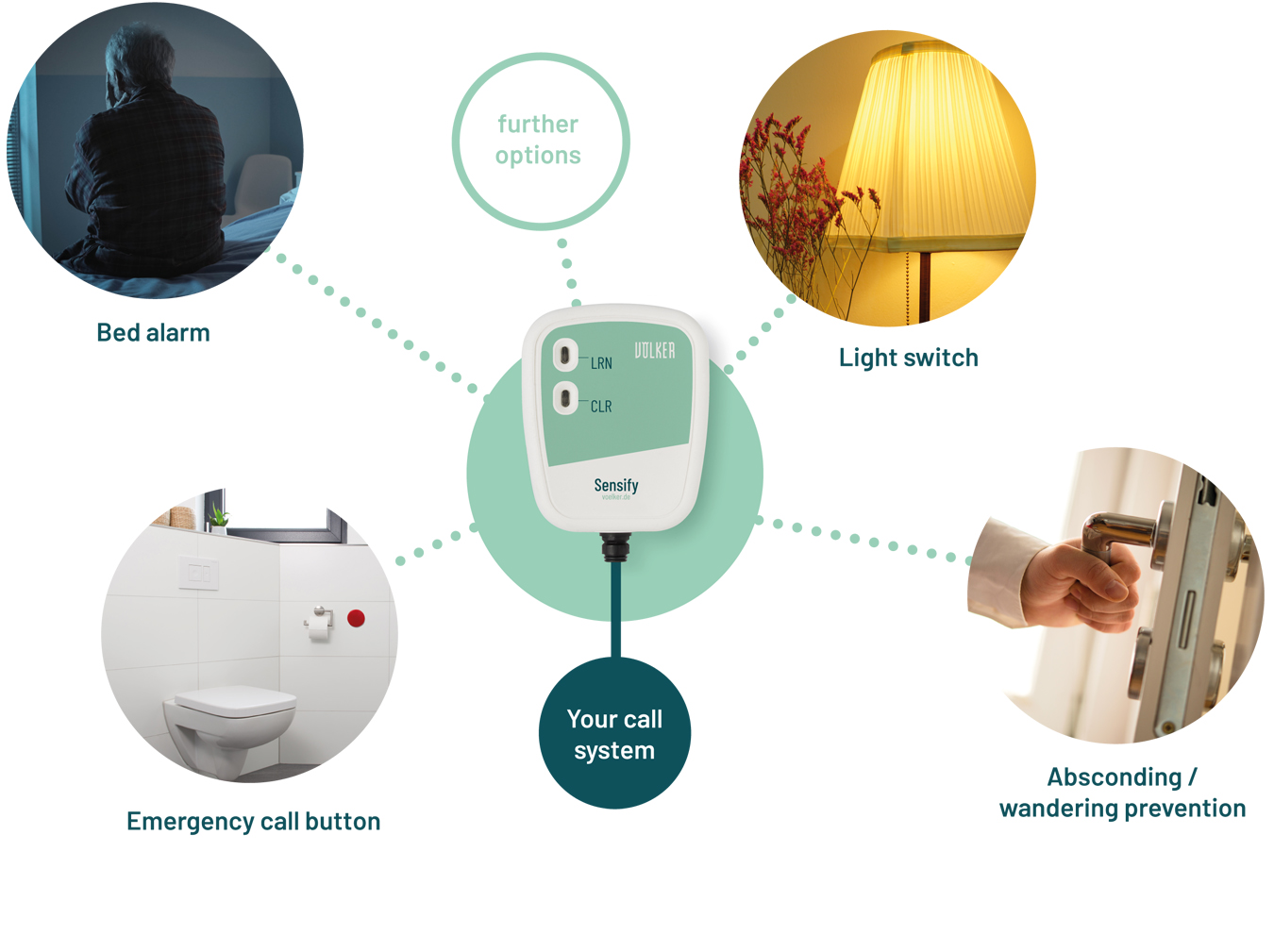 Press
New Sensify Assistance Systems for more safety
04-19-2021
New Sensify Assistance Systems for more safety
New Sensify Assistance Systems for more safety
Sends an automatic signal and turns on the light when the occupant leaves the bed

Reduces the risk of falling

Easy-to-install system, no batteries or cords

Maintenance free

Compatible with all call systems
Witten, 30.03.2021 — The new Völker Sensify Assistance Systems are now available. They significantly increase the safety of hospital patients and residents of healthcare facilities. Furthermore, they can also help reduce unnecessary rounds by care staff to check on people. The key element of the new range of Sensify Assistance Systems is the batteryless, cordless sensors, which notify care staff as soon as a patient or a resident leaves their bed. The sensors can also automatically turn on the light in the room where they are installed. The system is compatible with all call systems and is available for all Völker beds built from 2003 onwards. Optionally, it can also be upgraded to create a holistic safety network for patients and residents of healthcare facilities by adding on additional Sensify Assistance components such as door sensors and large emergency buttons that can be placed wherever they are needed.
When hospital patients and residents of healthcare facilities leave their beds unnoticed – especially at night in the dark – there is a great danger of them being injured from a fall. Despite regular room checks carried out by members of staff, the risk of falling at night is significant without an assistance system.
Cordless system sends automatic signal to any call system when the person leaves the bed
The new Sensify bed alarm system from Völker can help reduce the risk of falling. Fully batteryless, cordless and maintenance-free sensors are simply hooked up in the patented MiS®lying surface of the Völker bed. If a patient or resident leaves their bed, the sensors will automatically notify care staff via any call system including radio-based ones.
Certified medical product – easy to install
The Sensify bed sensor is available for all Völker beds featuring the patented MiS® lying surface built from 2003 onwards. The sensor is a tested and certified medical product and is very quick and easy to hook up, requiring no tools for the installation. The technology is based on a piezoelectric element, which uses the physical pressure of the body on the lying surface to transmit an electric signal to the Sensify radio receiver.
Easy-to-integrate lighting controls
On request, the Sensify bed alarm system can also be programmed to operate the lighting in the room. This will automatically turn on a desired light source when a patient or resident leaves the bed. Alternatively, the lighting can be controlled via a motion sensor. You do not even need special lights to do this. For example, in care homes, residents' own lamps (bedside lamps, floor lamps or reading lamps) can be easily integrated into the system.
Both the notification and the lighting controls significantly reduce the risk of falling as patients and residents will be able to orientate themselves immediately with the light on. This additional safety feature gives staff extra, valuable time to get to the person before anything else happens. Care staff can easily prevent false alarms thanks to cordless, mountable deactivation switches.
Large emergency buttons for safety everywhere
When Völker was developing the Sensify Assistance Systems, they took patient protection one step further. After all, falls do not only happen near the bed; they can occur anywhere in the patient's room, in the living room and in the bathroom. Therefore, the system can be expanded with the addition of cordless, currentless emergency buttons. These are extra big and self-adhesive, and can be placed anywhere. This gives residents and patients access to alarm buttons wherever they are. If there is an emergency, they can press one of these buttons, which are linked to the in-house call system.
Complete, easy-to-implement safety system
Bed alarm sensors, emergency buttons, door sensors and lighting controls are all Sensify Assistance System components that can be integrated into a unique solution that is tailored to the facility in question. With these solutions, Völker provides a holistic safety system for the protection of residents and patients, allowing staff to free up time that they can put to good use in the area of personal care, for example.