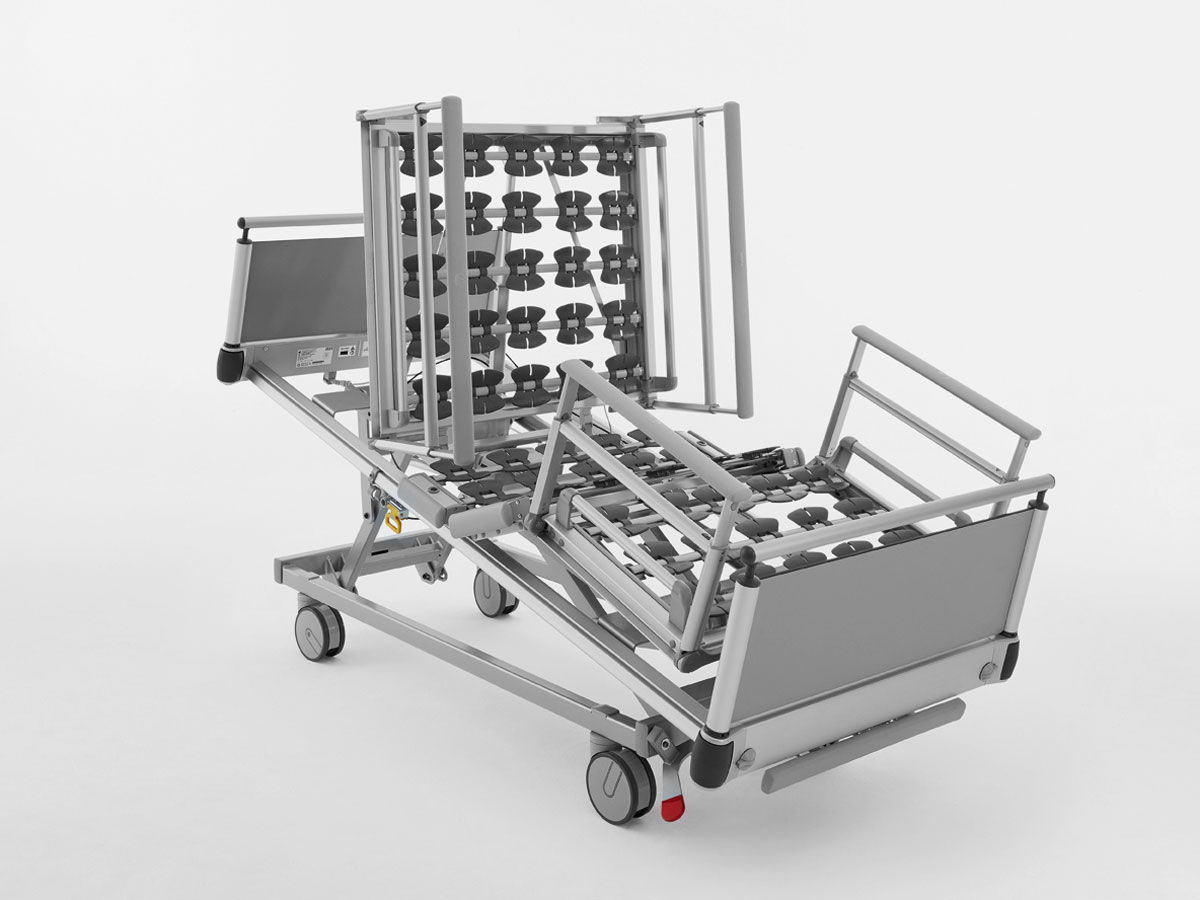 Press
S 966 bed: Innovations for patients and caregivers
01-26-2021
S 966 bed: Innovations for patients and caregivers
Attractive, homely design

Patented assist rail system

Head and foot section can be removed without having to be unlocked

Micro-stimulating lying surface

Low bed height of < 30 cm reduces the risk of injury caused by falls
Witten, 25 January 2021. With its innovative new S 966 hospital bed, hospital and care bed manufacturer Völker has significantly improved patient comfort and at the same time facilitates the daily work of caregivers. Humane care is the focal point for the specialised manufacturer during product development. With the S 966 hospital bed, Völker is setting new standards for the combination of comfort and functionality for both patients and caregivers.
The new S 966 hospital bed from manufacturer Völker offers various product innovations that benefit patients as well as caregivers. The bed offers patients maximum safety and comfort. Thanks to its attractive design, it also contributes to a positive, homely atmosphere and thus supports the patient's well-being and recovery process. Caregivers also benefit from product features that improve handling and translate into real time savings in everyday processes.
Patented assist rail system
The central safety element is the assist rail system offered exclusively by Völker. Integrated directly into the lying surface, the separate side elements are split on both sides and can be independently adjusted to different height levels. This way, they consistently accompany the lying surface during adjustments, in turn supporting mobilisation and fall prevention. The developers placed particular emphasis on the stability of all elements, so that the bed offers both an aid to getting out of the bed and a secure hold when trying to walk. The low bed height of 30 cm reduces the risk of injury from possible falls. Alternatively, the Völker S 966 is also available with fixed split side rails.
MiS®- Micro-Stimulation System
Bedsores are a common problem, especially for patients lying down for a long time. The S 966 can help counteract the risk of bedsores by absorbing even the smallest of the patient's movements and returning them to the patient's body as tactile stimuli. In this way, the bed promotes body awareness, self-movement and blood circulation in the patient's skin. In addition, the system ensures a high level of comfort when lying and sleeping. Other intelligent patient-focused features round off this bed's functionality. An optional, discreet underbody light helps patients to find their way more easily at night and the handset, which also offers an illumination option, can easily be hung off the side rail.
Easy handling for caregivers
The entire design of the bed is geared towards making it easier for hospital staff to use. The brake can also be easily operated in low bed positions, allowing caregivers to move the bed at any height. The head and foot sections can be removed without having to be unlocked. This greatly facilitates handling, especially in emergencies or for cleaning. All bed functions offer specific controls at the push of a button. This allows more time to concentrate on actual caregiving tasks. The optionally available fifth wheel is particularly practical. The bed can be easily moved in any direction, while the fifth wheel ensures particularly good handling.
Quality "Made in Germany" and comprehensive service
The high product quality, durability and high-quality feel are main trademarks of all Völker products. All beds are produced in Witten, in the German state of North Rhine-Westphalia, and comply with the highest standards. Intelligent accessories, a comprehensive range of services and maintenance as well as fast and competent help in the event of damage all ensure an attractive overall package.
About Völker
Völker is a specialised manufacturer of hospital and care beds. The medium-sized business, based in Witten in the German state of North Rhine-Westphalia, designs and manufactures beds with a single goal in mind: to enable dignified care and excellent patient comfort while providing the best possible support to the staff working in hospitals and care homes. With high quality and design standards, exceptional haptics and a comprehensive range of services, Völker is one of the premium market leaders for hospital and care home beds.
Further information is available at www.voelker.de