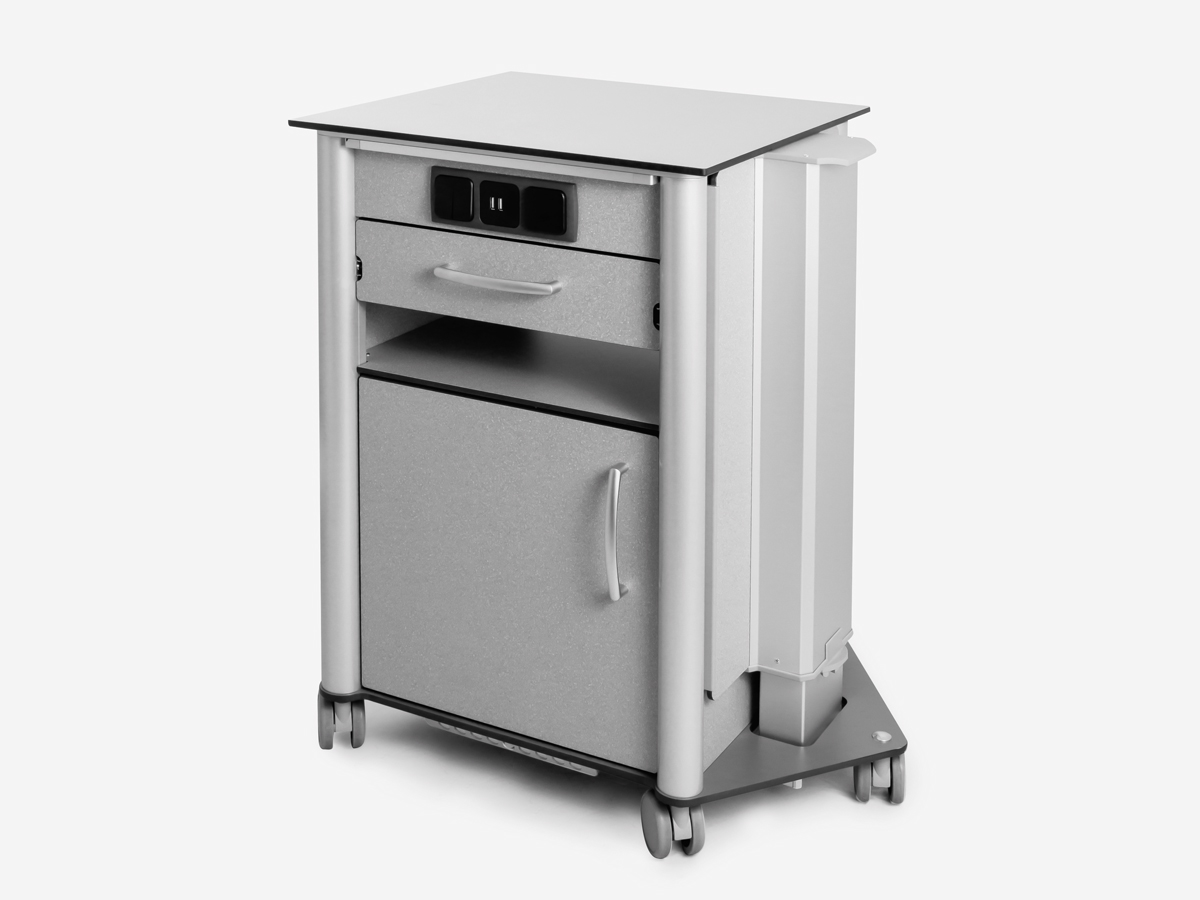 Press
Völker bedside cabinet 4.0
12-15-2020
Völker bedside cabinet 4.0
Völker hospital bedside cabinet 4.0 — modern bedside cabinet for greater patient comfort
Multiple sockets for electronic devices

Optional lighting concept with ambient and underbody lighting

The K 941 4.0 is available now
Witten, 17.12.2020. Völker is expanding its product range with the new K 941 4.0 hospital bedside cabinet. When designing this modern bedside cabinet, Völker focused on the changing needs of patients, incorporating multiple plug sockets and USB ports for electronic devices. Optional ambient lighting and intelligent underbody lighting with integrated motion detection make it easier for patients and nursing staff to find their way at night. The hospital bedside cabinet 4.0 also brings advantages for cleaning staff, as it is quick and easy to clean and disinfect.
"People often underestimate the importance of general well-being and how it influences the recovery process during a hospital stay. Our goal when designing all our products is to improve patient comfort and to make hospital stays as pleasant as possible. Several studies have shown that this is an important factor when it comes to recovery", says Yvonne Risch, Managing Director of Völker GmbH.
Electronic devices for increased comfort during hospital stays
The needs of patients during hospital stays have changed considerably in recent years. This is especially true of the way that patients consume media and the number and type of electronic devices that people of all ages want to use. Smartphones, tablets and e-readers are now commonplace, even for older patients.This has an impact on how well-equipped a hospital is, since many older hospital bedside cabinets do not cater to this need. Völker has responded by developing a modern bedside cabinet for hospital use with USB ports and plug sockets on both sides, providing exactly what today's patients need to feel as comfortable as possible during the recovery phase.
Innovative lighting concept for better orientation
The hospital bedside cabinet 4.0 can optionally be equipped with innovative underbody lighting that includes integrated motion detection. Pleasant ambient lighting for the drawer and socket strip are also available as options. Both the underbody and ambient lighting options make it easier for patients and nursing staff to find their way without disturbing other patients.
Easy to clean and disinfect
However, Völker doesn't just have patients in mind. All of the company's products are designed to make work easier for staff in hospitals and care homes. For example, the hospital bedside cabinet 4.0 is exceptionally quick and easy to clean and disinfect.
Hospital bedside cabinet 4.0 available now
The new hospital bedside cabinet 4.0 is the perfect match for the entire range of Völker beds and is available now. For more information on the new hospital bedside cabinet 4.0, visit the Völker website at www.voelker.de/en/hospital-bedsidecabinet-k941 or email kundenservice(at)voelker.de.