Furniture for the healthcare sector
Care home furniture range
Furnishing the rooms of a care home is often a challenge. Furniture needs to be the right quality, the right style, the right size and the right price. But above all else, residents need to feel at home in a room furnished to their specific needs. The new care home furniture range from Völker has been designed with exactly those challenges in mind.
Our modular furniture – including coordinating chairs and tables – can be combined in a multitude of different ways to fit the available space and accommodate the needs of the room's occupant. The design coordinates perfectly with Völker's healthcare beds. In other words, rooms can be attractively designed on an individual basis – no matter how limited the space.
3 reasons to choose our furniture range
First-class Völker quality with a timeless design and clever details – optimised for care home facilities.

A modular furniture range that can be tailored to the room, the resident and their specific needs.

Customisable design – coordinated with Völker's healthcare beds.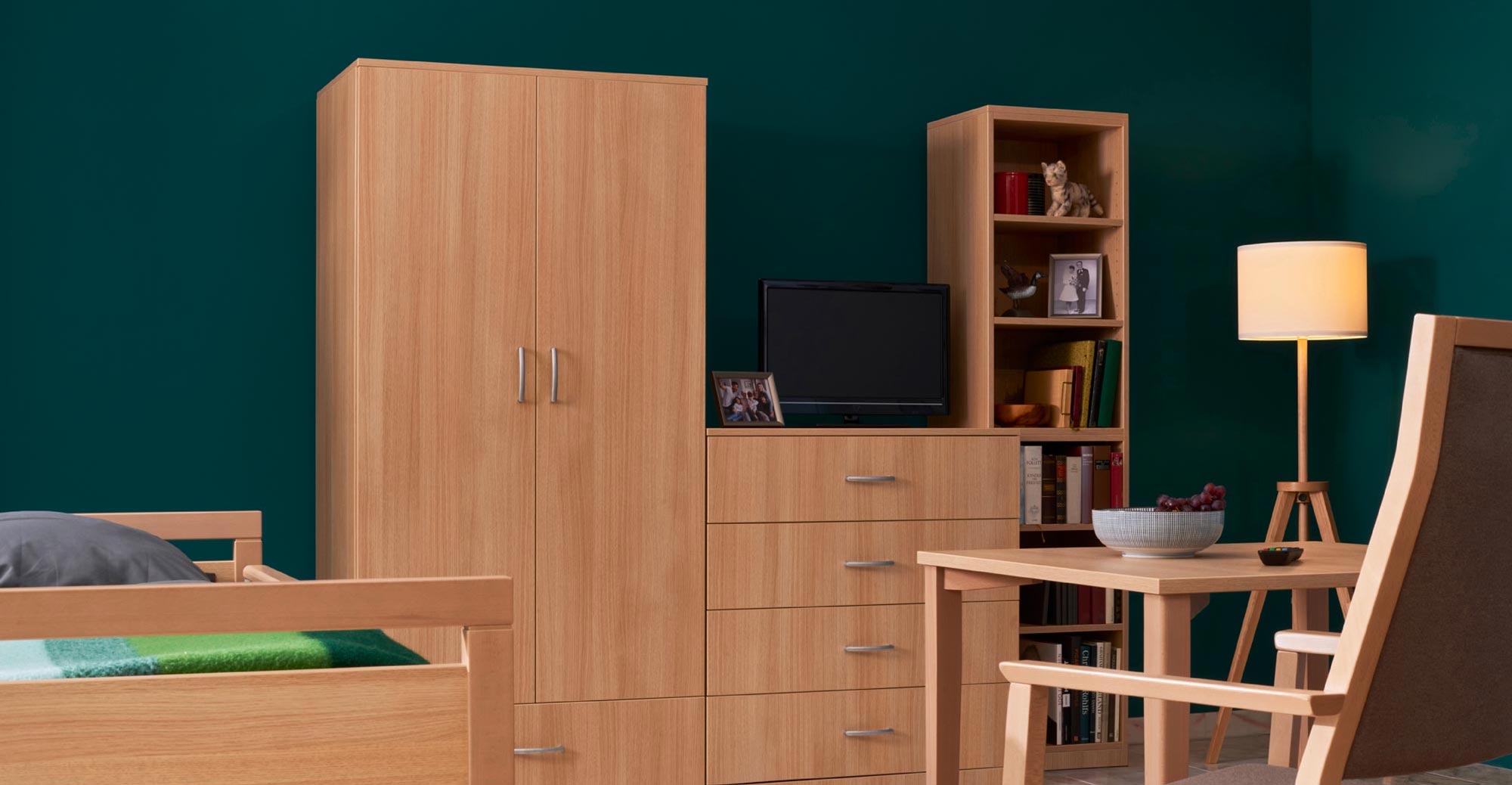 Furniture solutions
A small range of units – yet a wide range of solutions. This is the concept behind our solution-oriented care home furniture range. The cleverly designed range comprises basic units that can be mixed and matched in a multitude of different ways.
Tables and chairs
It's the small things that make a big difference in the day-to-day running of care homes. And this is what sets Völker apart. Not only are our tables and chairs perfectly coordinated with the rest of the interior design, but they have been designed exclusively with healthcare facilities in mind.
Crystal blue or magnolia? Or how about mint? The choice is yours! Give your healthcare facilities a makeover with our selection of different colours and materials. Homely wooden finishes can be combined with tasteful, solid tones. A touch of colour not only brightens up your care home but also helps provide a sense of orientation. As if that's not enough, the solid colours of our furniture range are now coordinated with our healthcare beds, too!
We will be pleased to send you additional information and remain at your disposal in the event of any queries.