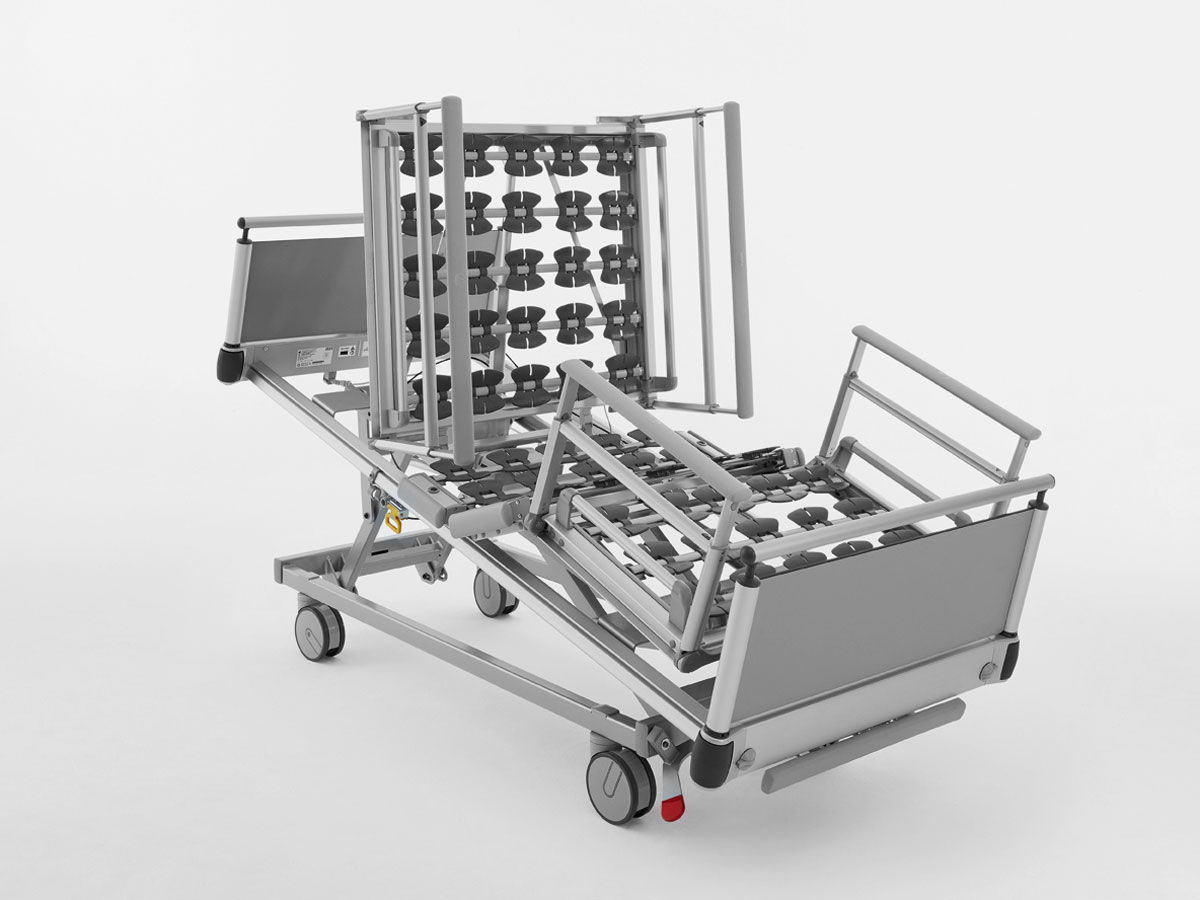 Press
S 966 hospital bed benefits both patients and staff
11-29-2019
Taking care of the needs of patients and facilitating the day-to-day work of care staff: these are the goals of Völker GmbH. With the S 966 hospital bed, the long-standing Witten-based company has created a product that meets the requirements of modern, individualised care with its range of features and functions.
"We further developed specific parts of the predecessor model," explains Jörg Waldeyer. "The S 966 hospital bed is designed to handle all typical hospital scenarios while meeting the highest standards of quality, practicality and safety."
Taking the load off nursing staff
With features tailored to everyday hospital requirements, the bed improves patients' stays and also makes the jobs of nursing staff easier. For instance, the lying surface can be lowered to a height of less than 30 cm, depending on the configuration. Additionally, the risk of falling out is minimised thanks to the bed's stable, adjustable side rails, which are integrated directly into the lying surface, assisting patient mobilisation and preventing patients from rolling out of the bed.
The bed also provides benefits for nursing staff, with integrated automatic height adjustment allowing individual control of the height and position of the bed to ensure an ergonomic working position. The hospital bed is also highly mobile, with brakes that remain accessible and easy to operate even when at the lowest height setting.
Combining form and function
The S 966 hospital bed features a modular design system allowing a range of individual components to be selected and combined depending on the intended application and location. As such, the bed can be fitted with different options such as fixed split side rails or a fifth castor. It is also available in a special washable version. The patented MiS® Micro-stimulation System, which improves the comfort of patients sleeping and lying in the bed and reduces the risk of bed sores, is fitted as standard on all configurations.
The modern, homely healthcare design of the beds is also standard across all models. In combination with the company's functional and stylish new bedside cabinets, with special features including illuminated drawers, floor lighting with motion detection and an inductive charging station, Völker's hospital beds create a homely atmosphere to support patients' well-being and speed up recovery.
"When developing our products, we place a lot of importance in the harmony between form and function," Jörg Waldeyer explains. "Our models can be assembled and configured to maximise both aesthetics and function. They can therefore fulfil medical requirements while ensuring a comfortable, homely atmosphere."