Tables and chairs
Specially optimised for care homes
For example, our tables have no box aprons, which means both chairs and wheelchairs can fit underneath easily. The optimised shape of our chairs not only means that residents can sit more safely, but also avoids people banging into them or tripping over. Castors are also available on option, facilitating the work of caregivers.
Clever features facilitate the work of caregivers
The rounded edges and shorter armrests on the Eila series decrease the risk of people catching themselves on them. Optional castors make it easier for residents and caregivers to push chairs around and pull them up to the table.
The optimised shape and design of the table ensures versatility. Wheelchairs fit underneath easily without banging into the box apron, allowing residents to sit comfortably at the table.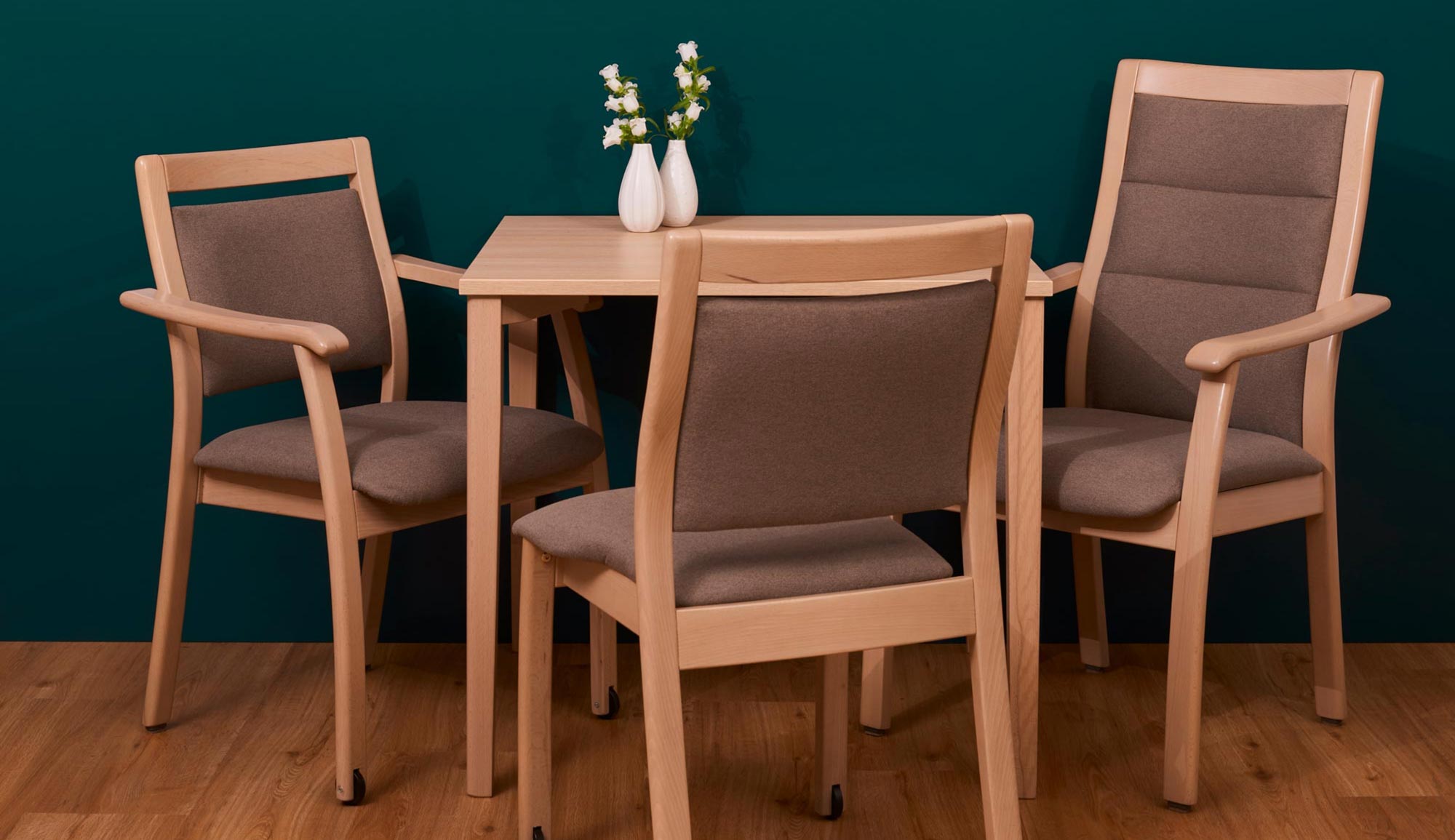 A design that's both attractive and hygienic.
A range of fabric and imitation leather upholstery provides versatile and hygienic solutions for care homes. Our easy-clean upholstery coordinates harmoniously with any interior. Our representatives will be pleased to present the different upholstery and colour options in a face-to-face meeting.
We will be pleased to send you additional information and remain at your disposal in the event of any queries.
Furniture for the healthcare sector
Furnishing the rooms of a care home is often a challenge. Furniture needs to be the right quality, the right style, the right size and the right price. But above all else, residents need to feel at home in a room furnished to their specific needs.
Read more about our contract furniture
Furniture solutions
A small range of units – yet a wide range of solutions. This is the concept behind our solution-oriented care home furniture range. The cleverly designed range comprises basic units that can be mixed and matched in a multitude of different ways.